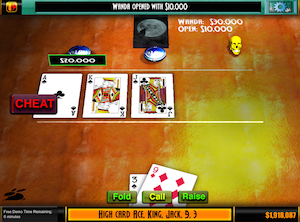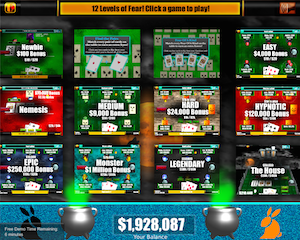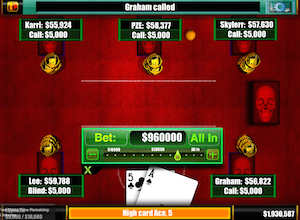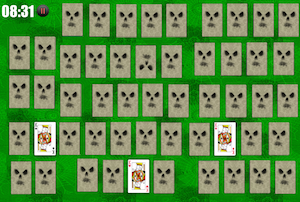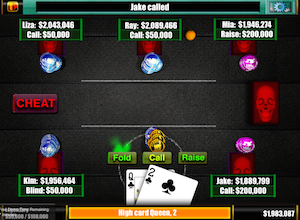 Texas Howled Em is a new game from ConjureBunny software. It features 12 games, each with higher stakes and increasing levels of difficulty. Three different Texas Hold 'Em artificial intelligences. Howled Em features incredible, vibrant 3D graphics, realistic physics, and large, easy to read controls. It also requires no Internet connection, so it can be played anywhere, without being online. It's only simulated gambling--you never play with real money. The tables are always filled, so unlike online games, there's no wait to join a game.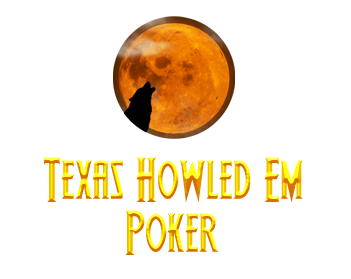 Downloads:
Download and play for free!
Mac: Click Here
Windows: Click Here
Linux: Click Here





About the Poker Bots: We wanted to create a truly unique poker experience, so a lot of effort has gone into making our bots more human-like. Howled Em features three different styles of computer based opponents. The first, "Pumpkin / Nemesis", can be found in the games with those names. This bot is more rules based than the others, playing by a fairly strict set of rules. Imagine playing someone who is trying to read a book on poker while they play. The Pumpkin variation has a terrible rulebook, while Nemesis is a little better. "Paragon" is a general purpose AI, which can be found in every poker game here, except three. It is capable of error, fear, overconfidence, and will occasionally make blunders based on what it thinks is going to happen. This bot is more fun to play against in a group, so we pit you against five of them. "House" is an ongoing experiment, and is only featured in the final level. House takes Paragon's abilities, and adds the ability to detect deception, and the ability to deceive. House can make mistakes, but not often. It can think strategically, and is perfectly willing to let you think it is making mistakes, to lure you into a false sense of security.

You can buy a registration code either here, or inside the app. Either way, the cost is a mere $9.99, which is equivalent to a small coffee at an overly commercialized coffee shop, or a gigantic ball of hair from a cat grooming salon. I'm pretty sure this game is more fun than a gigantic ball of hair, and should be slightly more stimulating than that small coffee.